One of the classic keto-friendly side dishes to have with your Christmas dinner is Brussels Sprouts with bacon. This mixture of brussels sprouts cooked with crispy bacon in the bacon grease is just delish. Luckily this delicious vegetable is also very easy to prepare. Here are a few of my favorite recipes.
Brussels Sprouts with Cheese and Bacon
When searching the web for Brussels sprout and bacon recipes I found this delicious-looking recipe. The recipe is very simple, with few ingredients yet the final dish will be scrummy. This would be a perfect side dish to serve alongside the turkey for Christmas Day or even at Thanksgiving.
Brussels Sprouts with Bacon and Onions
This is another quick and simple brussels sprout and bacon recipe this time adding onions. This makes a perfect side dish if you are following a keto, paleo or low carb diet. I think this recipe would be great with roast beef.
Roasted Brussels Sprouts Bacon Recipe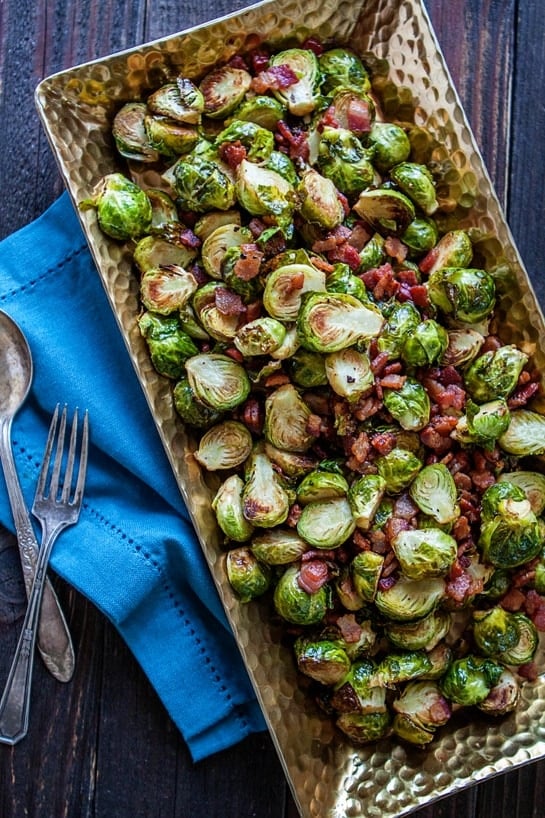 This is another delicious brussels sprouts recipe. This is easy to make as the sprouts are cooked by roasting on a baking sheet in the oven.
Oven Roasted Brussel Sprout Recipe
This is a slightly different take on the roasted sprouts recipe as it includes water chestnuts. The water chestnuts provide a nice crunchy texture. A small word of warning here check on the amount of carbs you are eating as water chestnuts do contain carbohydrates.
Picture source.
In summary Brussels sprouts with bacon can make a fantastic side dish that will go with all kinds of meats from Beef to Turkey and Ham. Making these dishes perfect for the holiday celebrations. I'm a big fan of the Brussel sprout so I would eat any of these dishes on there own as a light lunch…yummy!!!